@KJF239
I'm exploring your school resources. In exercise 5 I don't understand what the numbers mean on the tree and I'm not sure of the purpose of the red line. Can you explain please?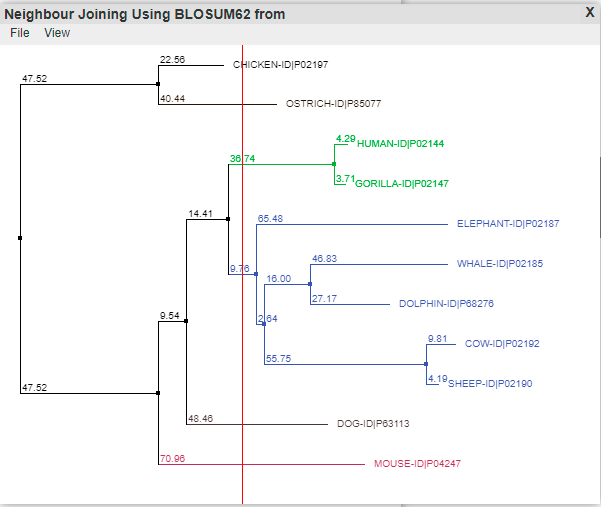 @slduce
The tree reflects similarities between sequences. When you click the mouse cursor on the tree, the red line groups the sequences, each group has its own randomly generated colour. The numbers are distance scores that can be added, lower scores have greater similarity.
@KJF239
Thanks for trying to help me out but I'm none the wiser! Could you use an example from the picture above to explain how the numbers could be used with A level students who are new to this sort of thing?
@slduce
Open the overview window is another way to look at the differences. (Open from the View menu in the alignment window and select Overview Window). I used Taylor colour scheme.


@foreveremain
Hi! So the tree reflects the physicochemical similarities between the aligned protein sequences. The same protein in different species are rarely 100% identical, but conserve properties (hydrophobicity & polarity) important for maintining the protein's 3D shape (its fold). (1/3)
You can see that sequences from Chicken & Ostrich, Human & Gorilla, Cow & Sheep all share a branch, so are grouped together. Clicking on the tree 'cuts' it with a red line, allowing the groups to be viewed on the alignment (and colours each one on the tree). (2/3)
The topology (pattern of branching) of this tree is a bit confusing, but makes sense when you look at the relationships between the species (I used the NCBI's tool: https://ncbi.nlm.nih.gov/Taxonomy/CommonTree/wwwcmt.cgi): the line groups primates, and the artiodactyla (dolphin,whale,cow,sheep).
and that was the (3/3) - hope that helps you make more sense of the tree with your students!