To whom it may concern,
We have a site that has the jalviewApplet.jar applet installed that pulls a file from a page within the same domain.
The previous versions worked, but after we upgraded to the most recent version after the certificate expired last November, it was no longer able to load data, it just hangs on 'Loading Data' (screenshot attached).
I have attached the file that gets passed to the applet.
Thanks!
-Rob
clustal_output.rtf (9.3 KB)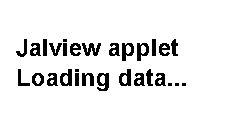 ···

Rob Wieck
Research Programmer
Center for Research Computing
University of Notre Dame