http://www.jalview.org/builds/spike-mungo/webstart/jalview_2G.jnlp
has a prototype of:
create features in Jalview from attributes in Chimera

…and vice versa
To demonstrate, set up with
Input alignment from URL http://www.jalview.org/examples/uniref50.fa

Web Services | Fetch DB Refs | from Uniprot to add features

View | Show Sequence Features

View a structure in Chimera for FER1_SPIOL
Now you can:

from the Chimera View panel, select "Chimera | Write Jalview features"

this copies any visible features to Chimera attributes (except for RESNUM) on mapped residue positions
to see the new attributes, open the Chimera reply log and command line, and type "list resattr" and "list resi attr jv_domain"
attribute names are given a "jv_" prefix as a 'Jalview namespace'

now View | Feature Settings in Jalview, and from the Chimera View panel select "Chimera | Fetch Chimera attributes"

a sub-menu with a list of Chimera residue attributes should be offered

(this occasionally pauses or hangs as it queries Chimera…if so try again…)

click on an attribute name to copy it to Jalview - it should magically appear in the Feature Settings, under group "Chimera"
you can now colour / select on the feature in the usual (Jalview) way
similarly, numeric valued attributes (e.g. phi, chi1, kdHydrophobicity etc) can have a graduated and/or thresholded colour applied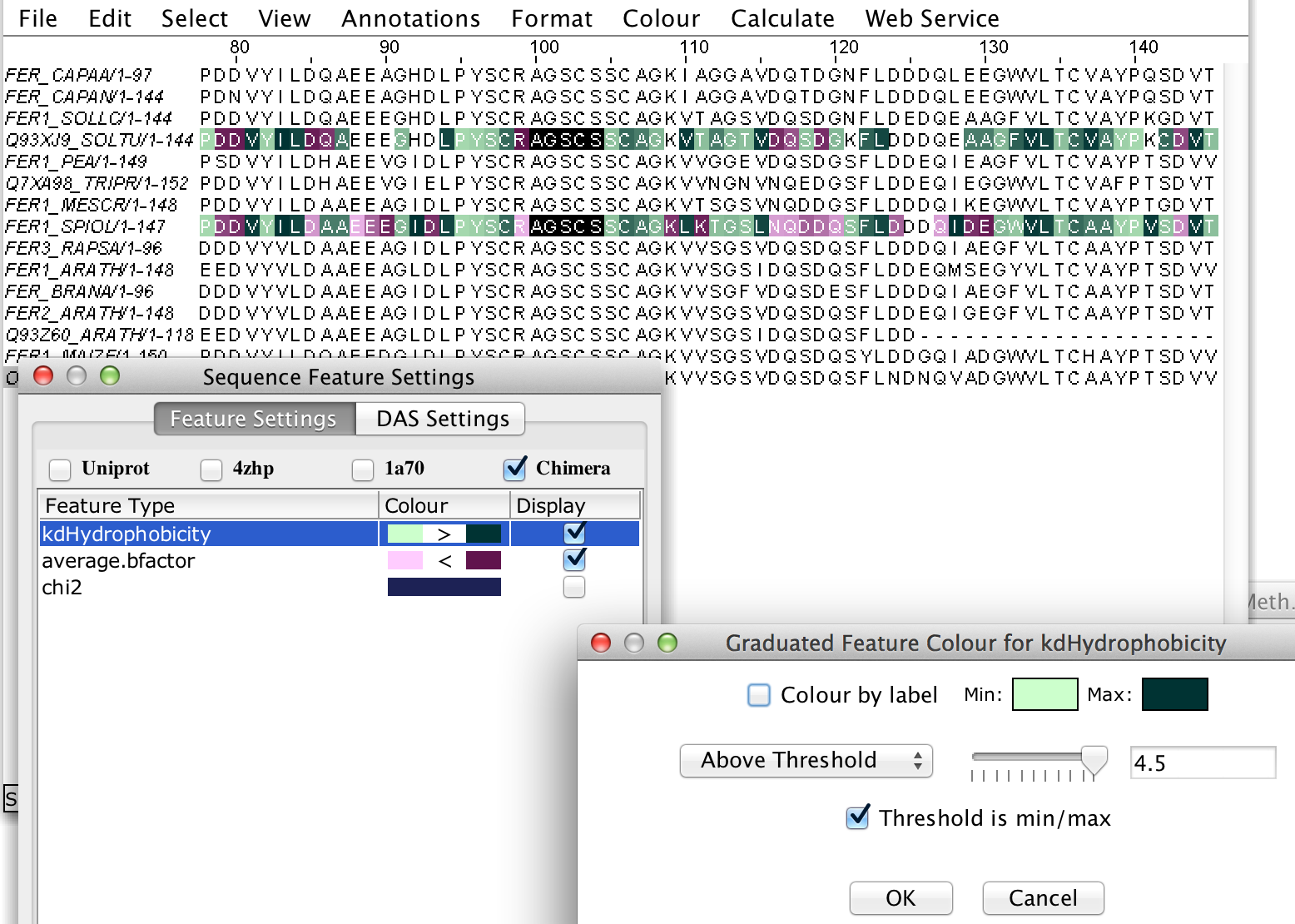 Note: not merged on to this version (but could be): option added by Jim for 'create selection from highlight' in Jalview after selecting in Chimera.
Any feedback on this welcome.
The main remaining related enhancement for this (so far!) is JAL-2294 - support for combining annotations in Jalview into 'derived' annotation.
That may take a bit longer…
thanks,
mungo
The University of Dundee is a registered Scottish Charity, No: SC015096
···

Mungo Carstairs
Jalview Computational Scientist
The Barton Group
Division of Computational Biology
School of Life Sciences
University of Dundee, Dundee, Scotland, UK.
www.jalview.org
www.compbio.dundee.ac.uk