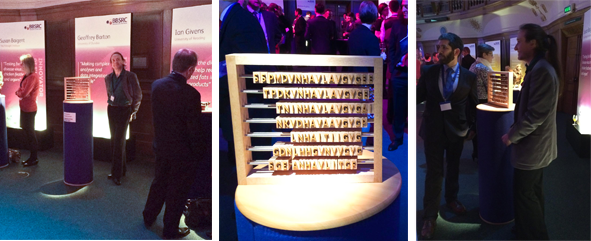 Jim Procter and Geoff Barton were at the BBSRC Innovator of the Year awards last night as finalists in the "social innovator" class for Jalview.
'We had a great evening meeting the other finalists and guests, but the winner in our class was Ian Givens from the University of Reading for his work on special diets for dairy cattle that reduce the level of saturated fat in their milk.' Geoff said 'We didn't feel so bad when Ian went on to win the overall award across three categories (social, promising and commercial) as well!'
Photos highlight our "iconic object" the "jalviewabacus" made by artist Luke Wilson. It was a great experience to take part in this event and showcase Jalview and Luke's work to a big audience!